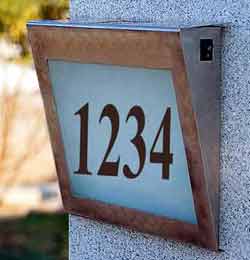 Chris and I went shopping over the weekend – mainly to stores like Home Depot and garden centers to get supplies for our garden.
I always tend to stop and look at the lighting section in places like Home Depot and stores that sell specialty lighting. I love solar lights. They look so nice in the garden, and the technology has advanced quite a bit.

The first solar products we bought 6 years ago didn't really last that long. Well, we still have them, but we have to replace the rechargeable batteries much more often than in some of the solar products that we've purchased in the last three years.
One thing that I've noticed when looking at the various solar lighting and other products is that they now have a solar house marker. Actually I think there's a few different brands.
Some of them are quite nice, such as the type that I've displayed above. Others can be set on the ground or perhaps a porch step and look more like a rock with house numbers on them.
What do you think of Solar house markers? Would you buy one?
Share and Enjoy