If you enjoy making your own videos whether it's with your camera phone, your digital camera, a digital camcorder or a tape based recorder you know that each piece of equipment might save your video or movie files in a different format. I know that's the case between my cell phone camera/video recorder and my digital camera video recorder! Same thing if you are trying to convert DVD or VHS files too.

Wouldn't it be great if there was a software program that you could use that would easily convert all the different video formats easily and quickly? Well there is! It's called the Movavi video converter. It's a powerful software program that lets you convert video files to different formats in minutes.
You can use the Video Converter to convert any video format, and also use it to rip DVDs. With this program you can save the video files that you've made onto DVDs, Ipods, Zune, PSP, PDA's and cellphones.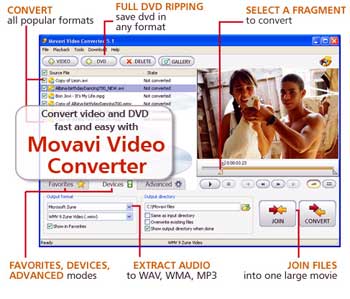 You can use the Video Converter program to convert between any of the following formats: VCD, SVCD, H.263, H.264, RM, WAV, MP3, FLV, AVI, DivX, XviD, MP4, Sony PSP, Apple iPod, DVD, VOB, IFO, MPEG 1,2,4, WMV, ASF, 3GP, 3GP2, and MOV file formats. I think that covers just about all of the most commonly used video formats out there!
You can also use the Video Converter to merge separate video files into one video file, or convert any video file segment. The software also allows you to extract audio and frames from your movie.
The software supports multipleprocessors and is Vista compatible.
The video converter software program only costs $29.95 if you are purchasing it for personal use. As far as I'm concerned a program that does as much as this one does is well worth that price. Check it out!
Share and Enjoy